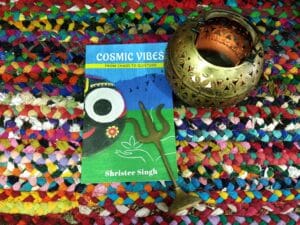 Book title – Cosmic Vibes – from chaos to quietude
Publisher – Literature's light        Author – Shristee Singh
Genre – Poetry     Pages – 81 pages   Language – English
Available on – Amazon.in
Purchase Link – https://www.amazon.in/gp/product/9391301118/ref=ppx_yo_dt_b_asin_title_o05_s00?ie=UTF8&psc=1
———————————————————————————
Shristee Singh's debut poetry book titled – Cosmic Vibes, from chaos to quietude – is an immersive experience into the divine that we venerate. An ardent devotee of Gurudev Shri Shri Ravi Shankarji, Shristee's poems resonate with the deep devotion and love that she feels for both her Guru and the divine. In the chaos of our lives, Shristee's poems are the calm that offers us frugal moments of solace that are much needed. In a world where we embrace haste and struggle to find quietude, her verses encourage us to slow down, reflect and take a pause in order to enjoy all the beauty that life has to offer.
Shristee's verses are more than verses. They are paeans to the Gods and plunge a reader deep into the emotions that define devotional poetry. In this book, there are poems that pay homage to Lord Shiva, Lord Krishna, Lord Ram and Sita and others. The book is a compilation of 55 poems with advance praise from Dr Santosh Bakaya and Mr Beetashok Chatterjee.
The cover page of the book is a beautiful and vibrant painting of Lord Jagannatha that has been pained by the author herself.
I love all the poems in this book but the top 5 for me, were –
1.
Lucid love (page 6)
–
//Besotted with a boy, dark as the night, whose beatific smile captivated hearts from miles…//
This poem pays homage to Lord Krishna and the love that Gopis felt when he played his flute. The verses are so evocative that one would not be faulted if one heard the faint echoes of flute music by the time they finished reading this poem.
2.
Someone (page 50) –
//… the bells in the chapels ring, someone must be making the rope swing, ringing out far and wide, resonating peace that can't be defied…//
there is an odd sense of calm that I felt after i read this poem and I have gone back to read these verses multiple times. To me, this poem represented everything that I love about the half-lit early mornings – the peace, the faint sounds of the day stirring, the chimes from the temple bells, the slight rumble of the early morning milk trucks, the chirping of the birds, etc.
3.
I wish (page 53) –
//I wish I could tell you how like the rain you are…//
I loved this poem for the undercurrent of devotional love that it carries.
4.
Break free (page 60) –
//feel free! Let desires drop when they worry tee much for your needs are taken care of by Him…//
This is a cautionary poem that counsels people to let go of the baggage that they carry – wishes, desires, wants, needs, aspirations, etc. The verses encourage one to believe in God for He is there to take care of everyone's wishes with his grand plan.
5.
Names (page 63) –
//Call me Krishna, call m Christ…//
this poem speaks of the omnipotence of God. God is one. He may have different names. He may be venerated by different faiths under those different names. But, there can only be one Supreme Being, whatever we may choose to call Him. I loved the message of this poem.
I recommend this book to anyone who is feeling out of kilter and would like to take a reflective pause and reassess their life. Pick this volume up and soak in the serenity that they will unfold for you. I guarantee that your life will be enriched.