BIRTHDAY CELEBRATIONS – WRITING CONTEST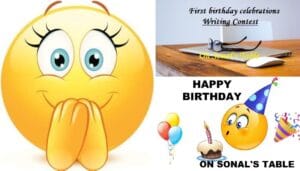 First birthdays are special, are they not?
This month, in March, On Sonal's Table turns a year old. To celebrate I have an exciting contest lined up that will be judged by two eminent personalities. Who are they? Hmm…keep your knickers on people…all shall be revealed soon.
Since this site is zara hat ke and is my passion project, a place where I park all my hobbies, the contest that I have for you is also something – zara hat ke! (Different)
Here are the details for the contest titled – ONE!
It will be open from 1st march 2021 till 20th March 2021. Results will be declared by first week of April.
So, what do you have to do?
You have to write a 500-700 word story. Only one entry per participant is allowed. The story should be in English language only. Glossary, title and any links in the story will be exempted from the word count of the story.
Can you write any kind of story?
Hell yes! Go crazy.
You can pick any genre and any topic to write on (horror, sci-fi, romance, historical, fantasy, any…) BUT, the story needs to meet the following criteria. Ah, stumped? Well, what is life without a few hurdles along the way? Nah! Don't worry, these hurdles are easily surmountable.
What are the criteria to be kept in mind?
Well, these are the criteria/ingredients of the recipe that you have to keep in mind to create the perfect dish/story.
Pick any one 'title' of any post from anywhere in my website (you could pick a prose, poetry, review, recipe, etc., any title). This title can be used anywhere in your story as long as you incorporate it seamlessly into your story. You can also use this title as the title of your story.
Pick one animate character (yes, just one who shall be your protagonist and around whom the story will revolve). The character could be human or animal. Yes, yes…can be alien too. A maximum of 'one' (obviously!) supporting character is allowed.
Combine all the above ingredients in the pot of your thinking, stir in some imagination, season it with some whacky ideas, add some twists and turns, garnish with a generous dollop of your creativity and serve up one single dish…oops…story, I mean one single story.
So basically, you need to write one 500-700 word story that should have a title (incorporated in your story or as the title of it) taken from anywhere in my website and you need to ensure that your story has one main protagonist and a maximum of one (only one) more supporting character. That is all!
How will the stories be judged?
The stories will be judged on – a) adherence to the prompt, b) creativity, and c) language.
Who are the judges?
Hmm…that is a surprise. Stay tuned because we have a mini-contest lined up for that too.
Will there be any prizes?
Duh, of course! What's a party without return gifts and giveaways?
The first three winners will receive surprise gifts from – On Sonal's Table.
How do we send the entries in?
All entries have to be sent in a word document.
The title chosen from my website needs to be highlighted in bold in the story.
Label your document as – OST_(your name)_2021
Email them to –

[email protected]

The contest starts on – 1th March 2021
The contest ends on – 20th March 2021
Results declaration – 1st week of April
For any queries you may write to me on [email protected]
MEET OUR SPONSORS
sponsor no 1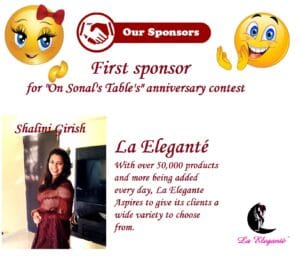 La Eleganté was born of a dream – a dream to provide a curated platform for the modern women to pick up her fashion accessories from. The motto was to be a part of every woman as she celebrates her womanhood in all its glory. Elegance is beauty and thus was born La Eleganté on 8th March 2014.
With over 50,000 products and more being added every day, La Elegante aspires to give its clients a wide variety to choose from. Accessories have the power to transform both the outfit and the outlook. Having recognised this, La Elegante' strives to provide the widest and the trendiest range to choose from. Of course, the added bonus is that it doesn't pinch your wallets.
Mood, need or occasion, whatever your reason to shop, at La Eleganté you will always find something suitable. And sometimes the only reason would be, that the piece is simply irresistible, one of a kind, just like you.
La Eleganté has a simple yet profound philosophy,  to add sparkle and a dash of colour in the lives of all our shoppers.
"Every day is a fashion show and the world is the Runway"- Coco Chanel. 
That is what I believe in. I am Shalini, the face behind La Eleganté and Fashion is my passion. As a bargain shopper myself it is my fervent desire to offer my customers the most stunning products at the perfect price. In the ever-changing world of fashion, it's a personal challenge to stay ahead of the game curating the latest and trendiest pieces for my loyal clients.
I believe in a global community and all the powerful good that can happen when we come together. Happiness is having you join the La Elegante'  family in making that statement, as you "fashion" our products to your world. Bring out your most fierce yet fun self every single day with La Elegante'.
Step in to a world of effortless elegance …welcome To La Elegante'
Facebook store – https://www.facebook.com/LaEleganteJewelsnBags/