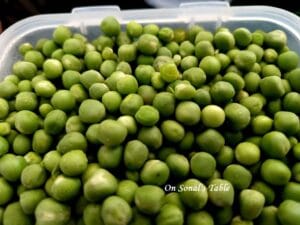 Green peas are in season, a winter delight and they are the perfect ingredient to prepare a north Indian speciality called – Nimona – a dish popular in UP, Bihar and other northern states of India.
Yes, I know the name sounds weird but the taste of this dish (popularly called hare matar ka nimona or green pea's nimona) is lip-smacking good. Of course, you can make this with the frozen peas also but I also feel that fresh green peas add that extra element of freshness to this dish which for me elevates its appeal. Since I like to use fresh green peas so this dish, is a winter speciality at my place.
Although the original recipe for this dish is quite simple (using very few ingredients), I have tweaked it to suit the flavour palette of my family. Hence, my version is slightly spicier (owing to the use of green chillies). The original recipe also calls for the use of mustard oil to cook but I prefer to use ghee instead. I also use only potatoes in the curry but you can choose to add boiled eggs, potatoes, urad ki badi/vadi, etc.
Here's how I make this. Try it. It only takes about 30-40 minutes to cook and the curry goes best with plain/boiled white rice or hot chapattis.
INGREDIENTS FOR THE MASALA PASTE
1 tsp coriander seeds (you can also use fresh green coriander)
2-3 green chillies (restrain the use if you want the non spicy version of the dish)
5-6 garlic cloves (large sized)
1 inch piece of ginger
Note – You can use ginger-garlic paste which is readily available in the market. But, I find that freshly ground spices impart more juice and tanginess, just enough to add that extra oomph to the curry
INGREDIENTS FOR THE NIMONA
2 tbsp ghee / mustard oil (your choice)
3-4 medium sized potatoes, boiled and then cut into quarters (4 parts) and deep fried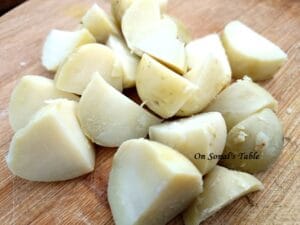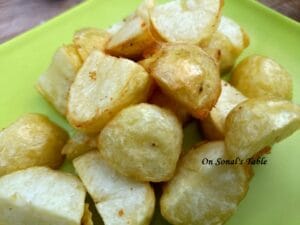 ½ kg or 500 grams of fresh green peas, shelled and blanched
1 bay leaf
5-6 pieces of clove
½ tsp heeng powder
½ tsp pepper powder
½ tsp amchur / dry mango powder
3-4 dry red chillies
1 tsp cumin seeds
1/ tsp cumin powder
¼ tsp turmeric powder
1 tsp kashmiri red chilli powder (optional)
1 tsp garam masala
Juice of half a lime
2 medium sized tomatoes, cut into small pieces
Salt to taste
1½ cup water
Fresh green coriander to garnish
Note – to blanch the peas – boil water in a vessel and when it starts to bubble, tip in the green peas. In about  4-5 minutes they will start to float to the top. Remove from heat, strain and immediately run them under cold water to allow them to retain their colour.
METHOD
Making the masala paste – In a mixer/mortar and pestle, grind all the ingredients of the masala paste together till you get a coarse paste. You can add a tsp of water to emulsify the masala. Set it aside till it is needed.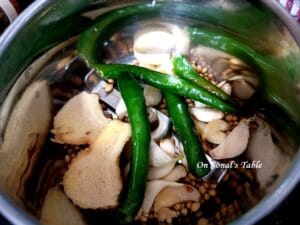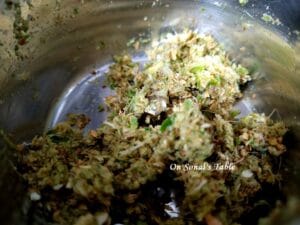 Making the Nimona
We will be using the peas in two ways – whole and ground into a paste. So, to start with, divide the peas into two parts – 1/3rd and 3/4th. Coarsely grind the 3/4th of the peas in a mixer without adding any water. The mixture should resemble coarse sand after you are done grinding it. Reserve the remaining 1/4th of the peas whole. Keep both aside.
In a heavy bottomed pan, heat 1 tbsp of the ghee and add the coarsely ground peas to that. Roast that on a medium flame for 4-5 minutes till the mixture turns aromatic and their bright green colour turns a slightly dull green shade. Stir the mixture continuously because green peas tend to burn really fast and they tend to stick to the sides of the pan too. Once done, remove immediately from the heat.
In another heavy bottomed pan, heat 1 tsp of ghee. Once it is hot, add the bay leave, cloves and 1 tsp of cumin seeds. Add in the heeng powder, the dried red chillies and the masala paste prepared and reserved earlier. Stir the spices into the masala, mix well and sprinkle in the amchur powder. Roast this mixture on a medium flame for about 2-3 minutes till it turns aromatic.
Next add in the chopped tomatoes, salt, turmeric, kashmiri red chilli powder and pepper. Mix well. Add a tbsp of water, cover the pan and let it cook till the tomatoes come to a mushy tendency. Once that happens, add the reserved 1/4th of the whole peas and mix well. Add about 1/ cup of water, cover the pan and let the mixture cook for 5-6 minutes or till the peas soften and the tomato is well amalgamated into the curry.
Add the roasted and coarsely ground green peas mix. Stir well and add the garam masala. Cook for about 1-2 minutes till everything is amalgamated and then add the fried potatoes. Mix well, add about 1 cup of water and continue to cook on a medium flame for about 2-3 minutes more.
This curry has a thick, pasty consistency. Once that is achieved, switch off the heat and stir in some lime juice. Garnish with freshly chopped coriander and serve hot with chapattis or rice.
Serve hot with rice or chapatti.