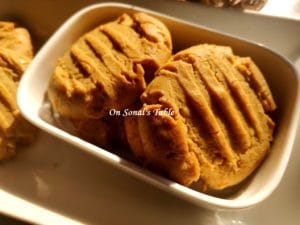 INGREDIENTS
½ cup peanut butter (I used crunchy but plain peanut butter works just as best)
½ cup unsalted butter (softened)
½ cup white sugar (granulated)
½ cup packed brown sugar
1 egg (at room temperature)
½ tsp baking powder
¾ tsp baking soda
¼ tsp salt
1 ¼ cup all purpose flour (maida)
1 tsp vanilla essence (optional)
2 tbsp chopped roasted peanuts (optional)
This recipe makes about 2 ½ dozen cookies
METHOD
Preheat the oven to 180 deg C.
Combine unsalted butter, white and brown sugars and beat till fluffy and well amalgamated. Then add the peanut butter, vanilla essence and egg. Beat well till mixed well. You can use a hand blender or mix vigorously with your arm. (Note – the traditional peanut butter cookies do not have vanilla essence. However, I like a little aroma in my bakes so I add that)
Combine all the dry ingredients.
Add dry ingredients to the prepared wet mix in small quantities, mixing all the time.
The mixture achieved will be a dough consistency. If it is too thick then you can add a tsp/tbsp of warm water (warm and not hot!). That will loosen the dough.
Once the dough is amalgamated well, cover tightly and keep in the fridge for min 1 hour. Using the dough at room temperature for baking will result in very thin cookies. (Remember butter is the main ingredient and it will melt under hot temperature. So, firming of the dough is vital).
Lightly grease a baking sheet, or line it with parchment.
Scoop out the mixture and make small 1 inch balls with it. Place the balls on the baking tray (about 6-8) and remember to leaves a few centimeters space between the balls. Then, with the back of a fork press down on the cookies gently till they are about half inch thick. You can also flatten them with your hand.
Bake the cookies at 180 deg C for 18-20 minutes, until golden brown. (I use a microwave and it takes me around 20 minutes to bake them. If you are using an oven then the baking may be faster so check the cookies around the 10 minute mark and adjust the time accordingly)
Remove the cookies from the oven. Allow them to cool on the pan for 2 minutes, and then carefully transfer them to a rack to cool completely. They will take about 10 minutes to become crisp.