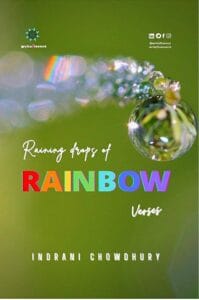 Book title – Raining drops of rainbow verses
Publisher – Notion press   Pages – 72            Language – English
Author – Indrani Chowdhury
Available on – Amazon.in
Link – https://www.amazon.in/Raining-Rainbow-verses-Indrani-Chowdhury/dp/1639579095/ref=sr_1_1?dchild=1&keywords=raining+drops+of+rainbow+verses&qid=1627358709&sr=8-1
————————————————————————————–
'Raining drops of rainbow verses' is a collection of 25 poems, divided into four sections that contain poems written on many topics. These wonderful spills from the poet's heart are a delight to read.
Section I – people and relations
'I remember you' is a poem brimming over with passion and longing. The poem 'Paper boats' rings with the innocence of childhood. It reminds us of the carefree days of our childhood when something as inane as sailing paper boats in the rains, held so much meaning. 'One final look, one final touch' aches with the pain of loss. It deals with the plethora of intangible emotions that the finalism of death leaves behind. 'The revenge of the house lizard' made me chuckle. It's a witty poem. As the name suggests it is also a poem that so many of us would not have written. I mean, who writes on the house lizard? But, Indrani's poem brings to life all that we feel when we spy the reptile crawling on our walls.
'Letters of Parvati' traces the circle of a woman's life – unloved, unappreciated and relegated to the status of a no-body in her house. 'The saviour called India' is the poet's musing on an interface between earthlings and extra terrestrials. Perhaps, such a day is not far ahead?
'King David' is an ode to David the king of Israel and his sins for which he was punished.
Section II – Nature and place
'The brook' and 'butterflies' are poems that extol nature and its beauty. They make one want to sit by a bubbling brook and indulge in nature's bounty. 'Guwahati' is the poet's ode to the land of her birth.
Section III – musings
'The language of music' is a poem that takes one on an auditory indulgence. It makes one want to put on some music and sink into the ambience. 'Memories' brings us to the present and makes us reminisce of the days that have passed. 'Angels and demons' is the poet's allegorical take on the constant tussle that we feel in our soul with respect to good and bad deeds. It is based on the Christian belief of salvation and damnation. 'Let our heart decide' urges people to follow their hearts whereas 'the scars of love' remind that following ones heat does not always lead to the desired outcome. 'Achilles heel' is a poem that touches upon the shallowness of human nature and how that leads to their downfall. 'The game of love encourages one to fall in love. In 'The collage of life' the poet compares our lives to a painted collage created by God with incidents etc representing different aspects. 'The mirror' is a poem that shows us the truest picture of us even though we try and cover it in falsehoods and false impressions.
Section IV – miscellaneous
'Simplifications', 'Cinderella dreams' , ' My mother's masala magic' , 'Holy ganga' , ' Durgotsav'  and 'mangoes' are all poems with a more personal touch and come from the poet's own experiences about life and things around her.