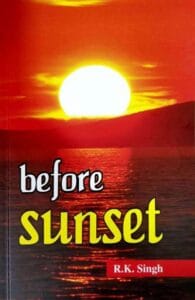 Book title – Before Sunset
Publisher –  Sarvpriya Prakashan Pages – 152    Language – English
Author – R K Singh
Available on – Flipkart
Purchase link – https://www.flipkart.com/before-sunset/p/itm9190670b27c6f?pid=9789391007522&lid=LSTBOK9789391007522ECUFYE&marketplace=FLIPKART&q=before+sunset+book&store=bks&srno=s_1_4&otracker=AS_Query_HistoryAutoSuggest_1_6_na_na_na&otracker1=AS_Query_HistoryAutoSuggest_1_6_na_na_na&fm=SEARCH&iid=5811efb7-b6f7-4abc-ba00-b22f828b0f80.9789391007522.SEARCH&ppt=hp&ppn=homepage&ssid=8kpxnh25og0000001627465071154&qH=dc75d749a44ee20f
_______________________
'Before Sunset'  is author R K Singh's first published book although the author is not a newbie to writing and has published various articles and papers in online journals and magazines. The book is a compilation of 37 articles written on pertinent topics. Some of the articles are a direct reflection on the author's personal experiences whereas there are others which have been penned in a more advisory style and are meant as guidelines for the reader.
The wonderful thing about this book is that even though for some readers it may fall under the self-help category, it is replete with vignettes from the author's life and contains anecdotes to make it a great non-fictional read. The book is a store house of knowledge on various legal issues and rights of a citizen and is sure to make the readers take pause and ponder. I bet that after reading some of the articles the readers will surely be forced to think along the lines suggested. The articles are backed with clear rationale and arguments to make them a balanced viewpoint.
The book starts off as a light read but then delves into series legal issues such as – 'is a brain dead person really dead', 'the right to die with dignity' , 'making a will – facts, myths, mistakes and remedies', etc. In some of these articles, the author proposes some new ideas to legal challenges faced by our judiciary – 'community service as punishment', 'the rights of animals', etc.
The articles on management, lateral and logical thinking and creativity are based on the author's own experiences in the corporate sector. There are also two articles in this book 'the irony of being a soldier' and 'who will weep after me' which have been written because of the author's personal experiences in the defence services in India. These articles are reflective of the apathy of the common man and the governing bodies towards a soldier's life.
Personally speaking, I found the article of 'making a will' to be extremely informative. It clearly states the pros and cons of making a will and takes the reader through the process and benefits of doing it.