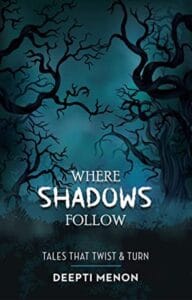 Book title – Where shadows follow (tales that twist and turn)
Publisher –  Readomania      Pages – 73 pages   Language – English
Author – Deepti Menon
Available on – Amazon.in / kindle unlimited
Purchase Link – https://www.amazon.in/Where-Shadows-Follow-Readomania-Shots-ebook/dp/B087V628T7/ref=sr_1_1?crid=1M0HPQRNDEIB0&keywords=where+shadows+follow&qid=1648453012&sprefix=where+shadows+fol%2Caps%2C297&sr=8-1
———————————————————————————
Where shadows follow by Deepti Menon is a compilation of eight short stories based on eight strong women protagonists. When I say – strong women protagonists – please do not mistake that as an affirmation of just their personalities because if you think that strength in a woman comes only from endurance then this book will jerk you out of your stasis.
This book celebrates women but first it embraces them with all of their qualities – good and bad.
Don't we all need the darkness to appreciate the light? Don't we all, women, have that fire inside of us that provides warmth but can also char to a cinder? This fire smolders deep in our core, its embers glowing when fanned by the winds of injustice, discrimination or betrayal.
The stories in this book are the stories of such women. These women are not perfect in the eyes of a misogynistic society. But, these are the women who in Deepti Menon's words, give hope because they refuse to bow to societal norms. Deepti's women refuse to forget injustices meted out to them. They refuse to submit or be subjugated in the name of gender or under the label of a 'weaker sex'. These women are strong by virtue of their thoughts and actions. They are able by virtue of their ability to tackle things headlong. Isn't that the definition of strength, the strength of character?
All the stories are written in a simple, linear style that complements the plotline. Even though the plots of the stories, in keeping with the title of the book, are twisted; it's easy to keep track of the narrative because of the compelling manner in which the stories are told. The author places you at the scene by attributing habits, quirks and idiosyncrasies to her characters that are both relatable and unique to her character – A Man of Habit, being one such story. The author's narratives delve into a plethora of human emotions that are reflective of everyday life and yet she manages to create suspense and intrigue around her stories. All the characters are well crafted.
My favorite stories in the book are – A man with a plan, put out the light and smoke and mirrors. Pick this book up if you are looking for some light reading packed with enough intrigue to suck you in.