Recipe by Rishika Thakur
There is a decadence to chocolate desserts that is unmatched by any other. At least my teenage daughter thinks so. According to her, a dessert is not a dessert unless it has chocolate in it, the darker the better.
She is always trolling food sites for chocolate based sweets. I am not much of a chocolate fan but she does make some mouth watering stuff from dense fudge brownies to cakes.
One of her favourite recipes is this super delicious chocolate and coffee tart. Trust me t is to die for. One bite and you go straight to heaven. I kid you not!
Made with dark chocolate infused by a shot of strong coffee, this delicious treat is not for the faint hearted. Oh no, it is not. This one is for serious chocolate lovers. Garnished with sweet chocolate chips and a dusting of confectioners' sugar, this dessert is sure to tingle all your sensory points.
This is Rishika Thakur's (i.e., my daughter's) recipe
CHOCOLATE AND COFFEE TART
INGREDIENTS
Ingredients for the tart base/shell
Half cup salted butter (must be soft, at room temperature and not melted)
Half cup powdered sugar
1 egg (should be at room temperature)
1 ½ cup all purpose flour (maida)
2 tbsp cocoa powder
Method to make the tart shell
In a bowl combine sugar and butter and use an electric whisk to cream them.
Divide the egg into two parts. Once the sugar and butter have amalgamated, add one half of the egg and whisk until the mixture is creamy again. Add the second half of the egg and repeat the whisking. Adding the egg like this ensures better whisking and amalgamation of ingredients.
Sift the cocoa powder and flour together.
Add the above dry mixture to the creamy wet mix. Use a spatula to fold in the dry mixture into the wet mixture. Mix till all is combined and you achieve a dough like consistency. Do not over work the dough. Just mix it enough so that all ingredients are amalgamated
Wrap the dough in cling foil and keep in the fridge for 30-40 minutes or till it firms up. This part is essential as we need firm dough to roll later.
Post 30-40 minutes take the dough out of the fridge.
Cut out a large piece of parchment paper and lay on top of the kitchen counter top. We will roll the dough on this. If you have made tart bases earlier and have rolled the dough directly onto the kitchen counter top, then go ahead and do so. But, for beginners i recommend putting a parchment paper because it makes it easier to lift the dough.
Dust the parchment paper with a little dry flour and roll the dough out with the help of a rolling pin. Keep the thickness to about 1 mm. You will need to roll with a soft touch as the dough has a tendency to crack. Make sure you work fast though. For best results it is better to work in a cool space as heat will make the mixture melt faster.
Grease your tart tin. Ideally a 6×6 inch tin is perfect.
With the help of your rolling pin, roll the dough first on your pin (exactly like you would roll a spool of thread or ribbon) and then unroll it on the greased tart tin. The dough may crack in places but you can patch it up. Don't worry if it does not fall perfectly on the tart tin. Most people get it perfect only with practice.
Push it into the edges of the tart tin and cut off the excess with a knife.
Take a fork and poke some holes into the bottom. This is important as it avoids the dough from rising up during the baking process.
Preheat the oven or microwave to 190 deg C and bake the tart shell. In an oven it may take upto 20-25 minutes. But, in a microwave oven it could take upto 40 minutes.
Perform the tooth pick test to check if the shell is done. If done, then remove and keep in a cool, airy place to cool. It needs to be completely cool before you can add the filling.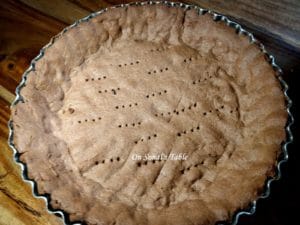 Ingredients for the chocolate and coffee filling
Half cup butter (softened and at room temperature)
1/3 cup water
1 ½  tbsp instant coffee (you can reduce this amount as per taste or omit if you want a plain chocolate tart)
1 cup chopped compound chocolate.
1/3  cup powdered sugar
1 tbsp vanilla extract.
3 eggs (at room temperature)
2 tbsp semi sweet chocolate chips for garnishing (optional)
1 tsp confectioners' sugar for garnishing
Strawberries or whipped cream for garnish (optional)
Method to make the filling
In a pan over medium flame, add water and butter and mix until the butter melts.
Add the coffee and bring the mixture to a boil.
In a bowl add chopped compound chocolate, sugar and vanilla essence.
Take the hot mixture off the heat and add it to the bowl with the chopped chocolate pieces
Mix well till you get a smooth, silky mixture.
Add the eggs and whisk again till you get a smooth consistency and ingredients have amalgamated. The mixture should be a thick syrupy consistency but if your mixture is too thin at this point (pouring consistency) then take 2 tbsp of the mixture and cool that down. To that add 1 tsp of corn flour. Mix it well in the mixture before adding it to the main mixture (Note – corn flour needs to be mixed into a cool mixture only. If added to a hot or warm mixture, it will form clumps).
Preheat your oven or microwave oven to 150 deg C
Pour the mixture into your cooled tart mould and bake for 20-30 minutes at 150°C.
You will know its done if the chocolate filling is set and firm at the sides but slightly jiggly in the middle (like jelly)
Let the tart cool completely before sprinkling confectionery sugar on top.
Garnish with chocolate chips, strawberries or whipped cream