Daal bukhara is a traditional North Indian dish made with pulses.
Although, its Punjabi cousin 'Maa ki Daal' or 'Daal makhani' has gained more popularity over the years, I prefer this gentler version of the dish. It uses less ingredients and is more flavourful than its robust cousin. Its full bodies flavour develops not on account of the spices incorporated but on account of those spices cooked for hours over a low flame.
Traditionally this daal is cooked for a minimum 12 hours. However, my version uses a fraction of that time and tastes just as delicious.
DAAL BUKHARA
Ingredients
1 cup black urad daal (soaked overnight)
3 tomatoes (pureed)
2 dried red chillies
2-3 green chillies
1 tsp ginger garlic paste
1 ½ tsp kasuri methi
Salt as per taste
¼ tsp pepper powder
¼ tsp jaiphal (nutmeg powder)
1 tsp garam masala powder
2 tsp kashmiri red chilli powder
2 tbsp butter
1 tsp cumin powder
1 tsp cumin seeds
Coriander and fresh cream to garnish
Method
Tomato puree – Heat water in a pan. Bring it to a bubble. Make an 'X' shaped incision at the bottom of the tomatoes and put them into the bubbling water. Switch off the flame, cover and let them sit for a minute. Then fish them out and dunk them in cold water. The skin will peel off easily. Cool and puree in a mixer.
Heat butter in a pan. Add cumin seeds, red chillies and ginger garlic paste. Sauté for a while and then add the tomato puree. Add kasuri methi, kashmiri red chilli powder, cumin and pepper powder, salt to taste and let it cook. This masala needs to cook for a good hour (ideally). Around the half hour mark, on a slow flame, the oil will start to separate. At this stage you can add a little bit of water or even a tsp of curd.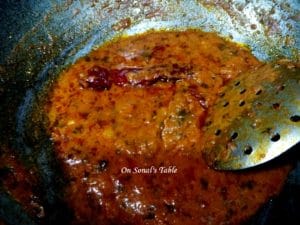 Once the masala is cooked (the colour will be a dark reddish maroon), add the daal and about 3 cups water. Add the nutmeg powder and garam masala powder. Let this cook on a slow flame for 2 hours (if you have the patience then let it simmer longer. The longer it simmers, the better the flavour that will develop). Keep stirring in between and add more water if needed.
Remove from heat after the Daal attains a pasty consistency (as in the photo). Garnish with cream and fresh coriander leaves. The best accompaniment to this is plan rice or mint paranthas.