Tete-a-tete with Priya Bajpai – 5th March @ 7 pm IST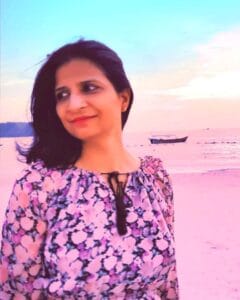 Priya Bajpai lives and breathes literature. She is a Mumbai born literature scholar, author and poet who has emerged as a writer of note with her debut book anthology titled 'Goya', published by ArtoonsInn Room9 publications.
Book review – https://onsonalstable.com/goya-by-priya-bajpai/
Amazon author link – https://www.amazon.in/Priya-Bajpai/e/B085RY59ZP%3Fref=dbs_a_mng_rwt_scns_share
Priya is a voracious reader who quenches her thirst for knowledge through online research ad books. Her short stories are filled with wondrous imagination and she is adept at creating scenarios in multiple genres. She often dreams about multiverses. The mysteries of the universe astound her and prompt her to often base her stories in other worlds and dimensions. Priya is as fascinated by history as she is by what the future holds and she often finds herself daydreaming about both. It is those dreams that this talented wordsmith translates into stories.
Priya writes in English. The language in her short stories is simple and direct and holds the ability to transport a reader to her vivid settings.