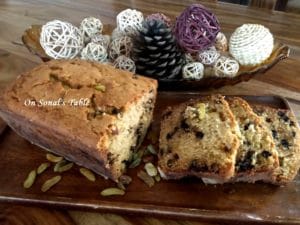 Dry ingredients
1 1/2 cup white flour/maida (you can also substitute half cup maida with whole wheat bran)
1 cup sugar (granulated)
1 tsp baking powder
1/4th tsp salt
1/2 cup assorted dry fruits (walnuts, raisins etc), choco chips, tutti fruity or dates (can use whatever you want or else can mix and match also)
Wet ingredients
2 eggs
1/2 cup cooking oil (refined) or approx 100 gm unsalted butter
1 tsp vanilla extract
2 over ripe bananas (mashed)
Procedure
Take the mashed banana in a bowl and add the sugar & oil. Mix well. Stir in vanilla extract and add one egg at a time (keep whisking) till all ingredients are amalgamated.
Fold in the dry ingredients except the dry fruits. Once both the dry and wet ingredients are mixed, fold in the dry fruits/choco chips etc.
Pre heat oven to 180 deg C and bake the cake/loaf in a bread tin for approx 1 hour or till done. I use a microwave on convection mode so it takes longer. An oven will probably take half the time so keep a check accordingly.
If you want an egg-less version of this then try this equally (if not more) delicious recipe then check this one by my friend Sheetal Ashpalia
4 small overripe bananas
1.5 cups wholewheat flour
0.5 cup sugar
0.25 cup oil (I used ricebran)
0.5 tsp baking soda
1 tsp baking powder
0.5 cup milk + water to dilute
A few drops vanilla essence
A few walnuts chopped for topping
A little oil + flour for dusting
Mash the bananas with a fork and add sugar. Mix them well as the sugar dissolves. Add the whole wheat flour, oil, baking powder, baking soda, vanilla essence and tip in the milk + water mix little by little till you get a dropping consistency batter.
Dust a baking tin with oil and flour.
Add the cake mix and top with chopped walnuts.
Preheat the oven to 180 degrees C and bake for 30-40 mins until done. Check if its done by inserting a knife in the center.
Let it cool and serve.
—