I have always had sensitive skin and a propensity towards allergic reactions when I use cosmetics or personal care items. Sadly, that has meant that I have had to be very careful when using over the counter products because the chemicals and additives in the products often react with my skin leading to rashes or hives.
And honestly, for a working professional like me with little time to spare on her personal grooming, sticking to a lengthy personal care routine using home ingredients (like our mother's or granny's made us use during childhood – uptan, multani matti or fruit pulp, etc) is not a possibility. There just isn't time to do all that.
So, for years I suffered the reactions of using synthetic cosmetics. Believe me, I searched and experimented with many different brands. I tried face-creams, bathing bars, lip balms, scrubs, hair oils, moisturizers, and god knows what not but all with the same dismal results. Nothing worked! All they did was to make my face look dull, patchy and pigmented apart from the break-out of acne, rashes etc.  With time, my face lost its natural youthful glow. And, as my skin tone deteriorated, my self-confidence plummeted.
I wondered if there was a line of skin care products which was natural, pure and organic and which had been curated keeping people like me in mind. At that point, to me, it seemed like a farfetched dream. But, miraculously, I found Deyga – traditional recipes made with 100% pure ingredients and crafted lovingly to suit all skin types (https://deyga.in/). The word 'Deyga' is derived from the Tamil word 'Deygam' which means 'body' and that is precisely what is at the center of Deyga's philosophy. And, you know what the best part is? Deyga is 100% an Indian brand that understands that every individual is different with different skin tones and body physiology. Hence, their products are custom crafted to suit all skin types.
I have so far tried the following products:-
Beetroot lip balm – The Balm is 100% organic and is a blend of natural ingredients like Avocado oil, Shea butter, almond oil, jojoba oil, beeswax and beetroot extract. It works wonderfully on chapped or dehydrated lips by creating a soothing, protective coat over the damaged skin. The ingredients work to both protect and repair the lips from further damage. One moisturizing application is long lasting for hours and the results are evident within a week.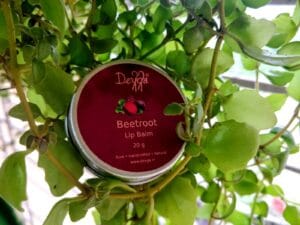 Aloevera Gel –It is a blend of cold pressed Aloe Barbadensis, Aloevera extract and Aloe Hydrosol and works to naturally hydrate and soften the skin along with offering the dual benefit of keeping the skin firm. I recommend the night time application as that gives the gel a longer period to work its magic. Within ten days of use I found a visible reduction in the patchiness of my facial skin. The gel also locks in the skin's natural moisture and lends it additional hydration to keep the skin supple, soft and blemish free. This is a truly miraculous product.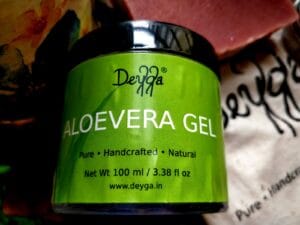 Strawberry lip scrub – The scrub is a blend of organic Shea butter, avocado oil, almond oil, granulated sugar, vitamin E and strawberry essential oil. The heady aroma of ripe strawberries hits you the second that you open the container. The scrub exfoliates the dry, dead skin of the lips and allows the new skin underneath to breathe.  Within a week of daily use, I noticed that my lips appeared soft and pink and lost their dark dull and wrinkled appearance. I recommend using this product along with the lip balm for maximum results.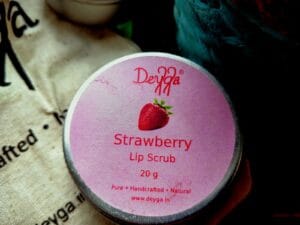 Rose pink clay bar – The bath bar is 100% made of natural ingredients and contains no artificial fragrance. It is perfect for people with sensitive skin.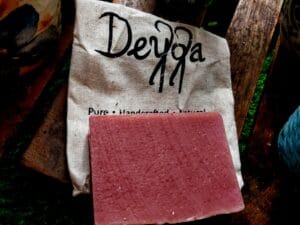 Deyga products carry with them the age old wisdom of traditional recipes coupled with natural ingredients, the kind that our mother's and granny's urged us to use. Don't believe me? Well, check out the testimonials for yourself – https://deyga.in/collections/. And, while you are at it, do take a peek at the blog section – https://deyga.in/blogs/news . You may find answers to some common skin/personal care related problems in it. The brand respects the body by using the most natural plant and flower extracts as the base for their range. And, they are available in a wide range of grooming segments – oral care, skin care, hair care, bath & body, baby care, men care, etc. That's quite a blessing because the brand is literally a one-stop-shop for all personal care and grooming needs for not just an individual but the entire family. Isn't that wonderful?
Another USP of the brand is that compared to other expensive natural products backed by multinational corporations, Deyga is pocket friendly. Their gift hampers make for some cool gifting ideas for both individuals and corporate events – https://deyga.in/collections/gifting. They even offer a complementary service for shoppers to assess their skin type prior to purchasing their products via the website – https://deyga.in/pages/help-me-choose .
To me, all of the above benefits speak volumes about the brand's philosophy and commitment to providing safe personal care options to cater to all skin types. And, unlike products of other companies which are tested on animals in labs to ensure suitability and safety for human use; Deyga products are 100% natural and the company does not adopt this barbaric practice of animal testing. Great, isn't it?
My verdict – I whole-heartedly recommend these amazing products.