This is one recipe that will make you think of Popeye the Sailor man. Incidentally, did you know that this iconic cartoon character was created as a means to make children eat spinach? Genius… right?
I am sure a lot of kids were inspired to eat spinach just so they could be as strong as Popeye.
Anyway, like any other mother, I too keep looking for newer ways to feed spinach to my kids. I have sneaked some in their pizzas, pastas and other snack foods. But, this recipe comes up tops. Why? Well, simply because everyone loves chips and dips including kids.
And, this recipe is also a great way to recycle spinach that has gone limp and is wasting in your fridge. A win-win all around…right?
SPINACH LAVASH (Lebanese bread)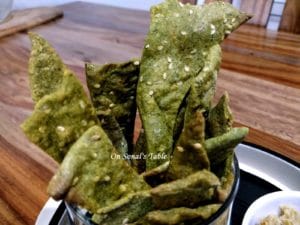 INGREDIENTS
1 cup whole wheat flour
½ cup bran (if you do not have bran then just use 1 ½ cup whole wheat flour)
1 bunch spinach leaves
2 tsp sesame seeds (black or white)
Salt and pepper to taste
¼ tsp red chili powder
2 tbsp oil (olive or refined) + 1 tsp for brushing on top
METHOD
Wash the spinach and give it one whistle on high in the cooker (with very little water). You can also blanch it. To blanch – heat water in a vessel and bring that to a boil. Once it starts to bubble, dip the spinach leaves in it for about 15 seconds and then remove and dunk them in an ice water bath (the cold water helps to retain the color)
Strain the excess water from the boiled spinach (blanched spinach can just be drained) and reserve that for later.
Puree the spinach till you get a thick paste.
To this paste add the salt, chili, pepper, and oil.
Combine the wheat flour and bran and knead it with the above puree mix. If required add a little warm water. We are looking for slightly hard dough.
Cover and keep this aside for about 20 minutes.
Divide this dough into fist sized balls and roll them out on the kitchen counter top (1 mm thickness). Before rolling it out, grease the kitchen platform and also the rolling pin or you could use dry wheat flour to dust the surface. Make sure that the rolled out dough is has eve thickness on all sides.
Cut the dough into desired shapes with the help of a pizza cutter
Brush the top with oil and sprinkle the sesame seeds
Preheat oven to 180 deg C. Once done, bake the cut dough for 20-22 minutes or till done.
Note – the lavash shall be soft when they come out of the oven. Leave them to dry under the fan or in a cool place. If they still remain soft then you can just microwave them for two minutes. They will firm up.
Serve with your choice of hummus.