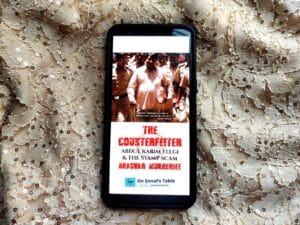 Publisher – Om Books International   Pages – 240    Language – English
Author – Bhaswar Mukherjee
Available on – Amazon
Link – https://www.amazon.in/Counterfeiter-Abdul-Karim-Telgi-Stamp/dp/9392834160/ref=sr_1_2?crid=RTV86B1UTXI0&keywords=bhaswar+mukherjee&qid=1656643852&sprefix=ba%2Caps%2C2935&sr=8-2
——————————————————————-
For anyone wanting to know more about the Stamp Scam, this would be the most comprehensive book to date. Written by Bhaswar Mukherjee (also the author of 'It happens: stories of human relationships – https://onsonalstable.com/it-happens-stories-of-human-relationships/) this 240-page volume is a deep dive into the chronology of one of the biggest and certainly one of the most famous scams in the history of the country.
Who was Abdul Karim Telgi? Was he just a common man who chanced upon an opportunity for ill-gotten gains? Or, was he genuinely a criminal mastermind whose mind worked in a nefarious manner?
For over two decades people have been divided in their opinion of this person. The book offers deep insight and allows a reader to make up their mind. I have read some reviews of this book in which people complained that there was no story. People said that the book was only a point-wise listing of the events that happened.
I beg to differ.
To me, this book is a non-fictional account of a real-life incident. And, I believe that it takes restraint and talent to chronicle a true-case scenario. This book has been written as a true representation of events that actually transpired. This is a rags-to-riches story of an ordinary individual who rose to dizzying heights because of a corrupt and complicit system of bureaucracy and judiciary. The author has taken pains to keep it as close to the facts as possible. That is the story. And, that is what he has written.
The book takes us through the early life of Telgi in order to give us an insight into the fraudster's conditions. A victim of circumstances, with no moral compass or ethical father guide to guide him, the man decided to take charge of his own life in order to change the hand that had been dealt to him. No, I am not trying to glorify a villain here. All that I am attempting to do is to understand the subtext of the text that Bhaswar has written.
What I enjoyed most about the book was the amount of information it left me saddled with after I finished reading it. I found myself thinking about the life of Telgi, his circumstances, his motivations, his penchant for expensive things and his eventual downfall. Long after I finished the book, I was left ruminating over the psychology of the fraudster. What went through his mind as he perpetuated scam after scam? Did fear never cloud his planning? Was he so drunk on the success of his frauds that he was unable to stop? What prompted him to keep going – greed or the lure of power?
Telgi's motivations aside, one thing that Bhaswar made clear to me via his book is the fact that none of this would have happened had we not been victims of a corrupt system. It does make me question though – will a corruption-free India remain a pipe dream only?
The things that I liked about the book –
It is a no-nonsense chronicle of the scam narrated in an unbiased manner. It will make for an excellent limited-episode series on any OTT platform. I hope that happens.
The language is easy to understand for a reader. Bhaswar must have sifted through reams and reams of data, information and legal jargon and those alone are enough to confuse a person. But, he has taken care to break down the scam for us readers in simple language.
The mind-numbing amount of research that Bhaswar has done to bring out this book –names of people, the dates and locations. He has even mentioned the FIR numbers. There must be hoards of people that he would have needed to speak to in order to understand the implications of Telgi's acts.
The book is full of references to enable a reader to verify facts for themselves. Bhaswar has also taken pains to share details about concepts such as the meaning of terms like 'duly stamped', 'types of stamp papers', etc. This is something that I much appreciated.
All in all, if you want to understand this scam better, this is the book that you must turn to.