As a mother I am forever looking for ways to feed healthful, nutritious food to children. My aim is to cook dishes that not just tick the food groups but are also delicious and wholesome. My paneer (cottage cheese) tikka in beetroot marinade is one such recipe. It is the perfect combination of both flavour and taste and packs loads of required nutrition.
Beetroot as the name suggests is a root vegetable which is a great source of fiber, vitamin B9, manganese, potassium, iron, and vitamin C. I sometimes add beetroot instead of tomato to my savoury dishes and the results are fantastic.
Added to the marinade of the paneer tikka, the beetroot it imparts a blushing pink colour to the paneer, which is a sure hit with kids. The basic recipe is the same as that of a malai tikka. Here is how I do it.
INGREDIENTS
For the marinating
1/2 cup cream
1/2 cup thick curd
1 ½  tbsp lemon juice
1 ½  tbsp ginger garlic paste
1 tsp red chilli powder (I prefer kashmiri red chilli as it imparts more colour)
1 tsp pepper, crushed or pepper powder
3/4 tsp  garam masala
1 tsp cumin / jeera seed powder
1 tbsp kasuri methi leaves
½ tsp ajwain (carom seeds)
1 tsp corn flour
1 tbsp oil
1 tsp chaat masala
1 large sized beetroot, grated fine. Do not throw away any of the juice. Add that to the marinade.
Salt as per taste
For the assembly of the tikka
16 pieces of paneer/cottage cheese (cut into 1 inch square pieces)
1 cup onion, quartered and the layers peeled apart
½ cup capsicum, cubed into 1 inch pieces (you can use any colour of bell pepper). You can also use a deseeded tomato.
Oil/butter for roasting
1 tbsp chopped coriander leaves for garnish
1 tsp lime juice for drizzling on the prepared tikka
1 tsp chaat masala for garnish
METHOD
In a small bowl combine the cream, curd, grated beetroot and cornflour to get a smooth paste.
Take a large mixing bowl and add all ingredients for marinating of the paneer. Pour in the wet mixture.
Mix well to ensure that all the spices are well combined.
Quarter and onion and peel apart its layers. Add them to the mixture
Cut the capsicum / bell pepper/tomato into 1 inch pieces and add to the mix.
Add the chunks of paneer and mix well to ensure that the paneer, onion and capsicum are well coated in the marinade.
Set aside for a minimum ½ – 1 hour.
After 1 hour skewer the three ingredients – paneer, capsicum and onion onto the roasting skewers by alternating the ingredients.
Note – If you are using wooden skewers then soak them in cold water for half hour so that they do not burn during the roasting.
Heat a girdle and brush it with some oil. Once hot, gently lay the skewers down and reduce heat to medium. Give the paneer about 2-4 minutes to cook on one side and then turn them over gently. The paneer will be really soft so be cautious while turning them over else the paneer cubes will break and come apart. Cook evenly on all four sides till the marinade is cooked and slightly golden.
Remove from heat, sprinkle some chaat masala and lemon juice on top and garnish with coriander leaves.
Serve hot with some mint chutney (get your mint chutney recipe here – https://onsonalstable.com/mint-chutney-condiment/).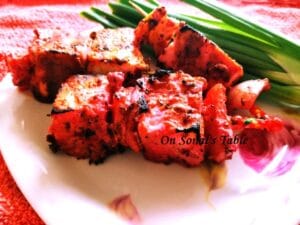 Note – After roasting on a girdle, I prefer to roast the tikka for a further 2-3 minutes on a wire mesh on the open fire. To do that, I put a layer of aluminum foil under the gas burner (that helps to catch the drips and makes cleaning up easier). I place a wire mesh for grilling on top, brush it with some oil (this stops the tikka from sticking to it) and heat it. Then I place the cooked tikka skewers directly on top of the mesh and rotate them for about 2 minutes.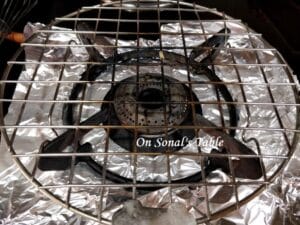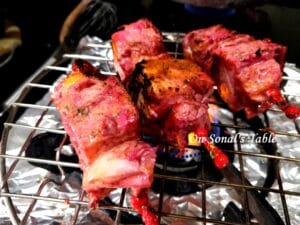 They need to be turned frequently to avoid burning. Doing this adds that slight char/singe to the meat which we get if we cook them in a clay tandoor.