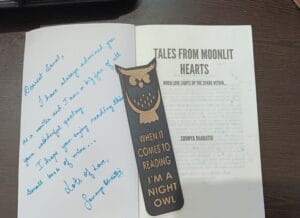 Book title – Tales from moonlit hearts – a short story collection
Publisher – Self-published via Notion press   Pages –  84 pages   Language – English
Genre – Drama
Author – Soumya Bharathi
Available on – amazon.in
Purchase link – https://www.amazon.in/Tales-Moonlit-Hearts-lights-within-ebook/dp/B0BHM83RXK/ref=sr_1_1?crid=28HFEBXW5LL0N&keywords=tales+from+moonlit+hearts&qid=1686114186&sprefix=tales+from+moonlit+heart%2Caps%2C317&sr=8-1
**************************************************
About the author –  Soumya Bharathi is an Oral and Maxillofacial Surgeon currently on long maternity hiatus. When not running after her kids and family she loves penning down her thoughts in the form of a blog, story or a book. Writing for her is therapeutic and one of the best ways to connect with the world. She blogs at – soumyabharathi.wordpress.com
About the book – Tales from moonlit hearts is a compilation of seven heart-warming stories centred around the theme of love (in all of its myriad forms). The stories tackle multiple issues of attraction, infatuation, passion, love, regret, longing, loss, companionship, comfort, regret, etc. Each story is preceded by a beautiful poem by the author which orients the reader to the content of the story to follow. The poems are structured in verses which are easy to understand and touch the heart with their simplicity and candour.
Soumya writes with both intuition and instinct when she speaks of the many facets that love has. Her language is deep, emotional and with just the right mix of endearment and longing to make the stories memorable. The narratives are crisp and flow with heart-touching fluidity. There is a definite emphasis on brevity via trying to bring out the subtler shades of romance.
My favourite story in the book is 'Moonlight diaries'. I loved this one for the depth of emotions that it displays. Its not the words but the feelings rooted deep in them that speak to a reader in this story. Another noteworthy fact about this book is that Soumya, in her own way, has tackled a lot of societal issues/biases in this book. Kudos to her for that.
The book is a fairly quick read for the immersive quality that it holds. It's perfect to read on the go while travelling or the perfect companion on a sleepless night. I recommend it.