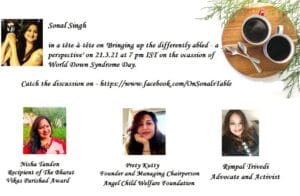 YouTube link – https://youtu.be/bglNhDd_UuY
Facebook link – https://fb.watch/4oaNbudkVY/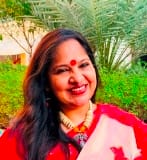 NISHA TANDON
Nisha Tandon resides in Dubai and is a published poet and is the recipient of the Bharat Vikas Parishad award in 2017 for her contribution towards People with Special Needs. She was the President of the Parent Teacher Association Of SPJ Sadhana School, A school for Children with Special Needs from 2010 to 2013. She supported them in their endeavors to provide exposure and worked to bridge the gap between the society and children with disabilities. She works in close coordination with Al Noor Training Centre in Dubai for persons with disabilities. This association was born out of her resolve to raise her daughter (born with Downs Syndrome) in a just world.
Nisha also undertakes counselling of parents of Children with Special Needs and assists in various events and activities organized by Dubai Little League (Baseball) , Rising Stars Dubai (Boxing), EAPD ,Dubai(Horse Riding ) and FAME ( an event company that promote People of Determination ) Dubai. Her journey to help others started early on in life when at the age of 16 she was associated as a teacher with a School for the under privileged children " Prem Jyoti Prangan" in Kharagpur, West Bengal.  She was appreciated and rewarded by the authorities for the same. She has been invited as guest speaker on various platforms to talk for the cause ( People of determination) and is a regular contributor to the magazine for special children in Dubai  called Incluvision . She recently also moderated a session for a special event "Parwaaz" by Asian Literary Society about Inclusion of differently abled community in the society.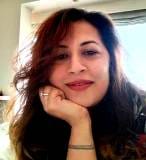 PRETY KUTTY
Prety Kutty is an ardent mom, a vivacious home-maker, and an adventurous and sprightly soul. Love is her superpower. Spreading Joy is her mission. With a Masters in Business Management, she runs her NGO 'The Angel Child Welfare Foundation (www
acwf.in
) in Mumbai with great gusto. An editor by profession, she also has immense interest in music and art. An ardent believer in the power of Universal Energy, she practices Taichi and Qigong with dedication. It's the one thing that keeps her head and heart in perfect balance.
A strong advocate for children with special needs, she has taken it up as her heart-fueled mission to awaken citizens to the beauty and joy of having Special Children in their lives. She dreams of enabling a world where there is absolute acceptance of Differently-Abled children and adults.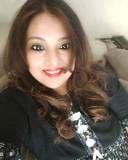 RIMPAL TRIVEDI
Adv Rimpal Trivedi is an  alumni of Shri lala lajpatrai college of law, and a member of bar council of Maharashtra and Goa since 2011 .
She is  one of leading advocates in Mumbai independently practicing in Mumbai with a client base in India and abroad. She specializes in family and  matrimonial matters. She started her professional career as an IT marketing personnel, but later chose legal practice as her future career as she firmly believes that provides her best opportunity to touch life of her clients and make a difference on their life with her ethical,  professional and resulted oriented approach. She is a passionate advocate for the differently abled and fights to offer them equal opportunities that they deserve.